Monday, November 19, 2007
2007 AMERICAN MUSIC AWARDS
Last night the 2007 American Music Awards bought out
Beyonce Knowles, Solange Knowles, Usher, Alicia Keys, Ashanti, Rihanna, Nicole Scherzinger, Queen Latifah, Chris Brown
, and many more.
Solange,
in a strapless Giambattista Valli dress, is making moves on her own as she has
reportedly
signed a deal with Geffen Records. Her sister Beyonce, in a gold fishtail number, performed "Irreplaceable" with a little country swag. (And yes she performed "Irreplaceable" at last year's show.)
Flaunting his wedding ring, Usher presented Beyonce with the award for best International Artist. The Houston, Texas singer was speechless and nervous but she did manage to thank her manager/father and Destiny's Child.
Alicia Keys
, in a black Emporio Armani dress, performed "No One" -the reggae remix alongside Beanie Man. Keys got up from her piano and danced in a gray catsuit.
Rihanna
, in a Armani Prive velvet cocktail number, paid respects to a greiving Kanye West when she accepted her AMA for Soul/R&B artist. Rihanna, before she belted out her tunes, "Umbrella" and "Hate that I Love You" with Ne-Yo, said she 'appreciated' Alicia Keys' performance.
Nicole Scherzinger
opened up the show with Will.i.am and Fergie. The PCD lead vocalist sang "Baby Love" in a silver sequin asymmetrical dress.
Mary J Blige
got into her performance of her new single, "Just Fine". Blige took the audience back to her "What's the 411" days. Nicole Scherzinger, Will.i.am, and Fergie all got into her performance.
Queen Latifah
rock a leopard print dress while
Chris Brown
went for a preppy look. Her performance of "I Know Where I've Been" was one of the last clips I caught from the show before calling it a wrap. Anyone else thought that live performance of "Kiss Kiss" was a little bit of MJ and Usher?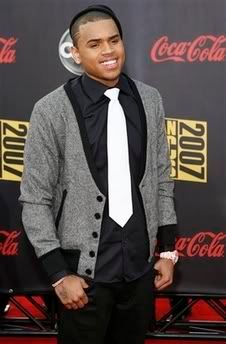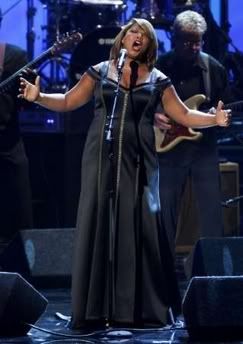 image source
Okay I'm done with reporting on this awards show, be sure to visit the fab sites on my blogroll for additional pictures.
[urban-hoopla]
Labels: Alicia Keys, Ashanti, Beyonce Knowles, Nicole Scherzinger, Usher