Thursday, September 04, 2008
MORE OF BEYONCE'S "MARIE CLAIRE" SNAPSHOTS
More from Beyonce's
"Marie Claire" UK October 2008
photo session
surfaced online. A sleekier image and fierce poses are all on target for Beyonce this time around. Beyonce also mentioned in the interview that she wants to be known as a legend and not as a pop star.
"There is a time limit on being a pop star, yes. Being a legend, an icon? Absolutely not. I'm over being a pop star. I wanna be iconic."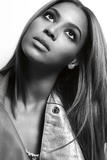 Photo credits:
MARIE CLAIRE
Indeed "the comeback" is in full effect for the birthday girl who turns 27 today!
Labels: Beyonce Knowles, Newsstand Snapshots