Friday, May 25, 2007
WHEN WAS THE LOOK ON LOCK? KELLY ROWLAND EDITION
KELLY ROWLAND
rocked the same striped blue and white top recently: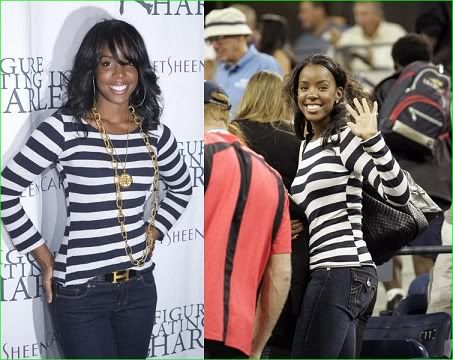 -click on image to enlarge-
LEFT:

2007 Skating with the Stars: April 9, 2007

RIGHT:

2006 US Open: September 3, 2006
[props to
BOSSIP
!]
WHEN WAS THE LOOK ON LOCK? Drop a comment...Kelly is still on her promotional grind. Check her out visiting Canada's Flow 935 FM radio station:
Purple is the color for Ms. Kelly.
[
picture source
]
On a side note, Kelly plans to track down her estranged father who she hasn't seen in the past 19 years:
Rowland, 26, says, "Meeting my dad again is something I've been thinking about recently.
"I don't know where he is but I hope he's not dead. That would break my heart. I remember my dad being drunk and aggressive towards my
mom but not me. It took courage for her to get away.
"I don't know if he knows who I am or what I've done. He must be hiding under a rock if he doesn't."
Despite mellowing towards her dad - Rowland insists she has learned an important lesson from her childhood: "I'm not afraid of alcohol but I wouldn't choose a man who indulges in it. I wouldn't want any kids I have to go through what I did."

[
StarPulse
]
Labels: FFW, Juicy Tales, Kelly Rowland