Sunday, August 19, 2007
KELLY ROWLAND IN THE SOURCE
Kelly Rowland
talks candidly with "The Source" about her solo career.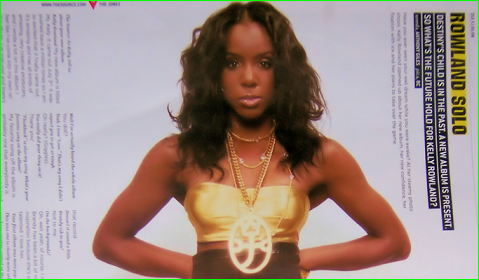 -click on image for full-
On her favorite song from "Ms. Kelly":
My favorite song on the album is probably one that everybody is not too wierded-out on but it kind of puts me in the mind of Sade. It's titled "Better Without You". I love that record.
On the difference between Kelly then and now:
I feel like a woman. I feel like I've come into my own. It's a good feeling. I feel comfortable in my skin. Not that I didn't before. I just think the older we get the more layers just start to come off. I think that's a good thing. I'm sure on my next solo album or if Destiny's Child ever wanted to do another reocrd it would happen again with DC. I think that people constantly evolve. You should never put them in a box.
On how "Better Without You" sounds like a Brandy track:
Not to me. Oh, well yeah, of course. I mean Brandy has been a bit of my inspiration because she's so talented. I love her.
On her goals as a solo artist:
You know I want to sell a lot of records. I want to have a big tour. I want my name to be a household name as just Kelly Rowland. I want to still be able to help my community. I don't care how that's done, you know what I mean? So that's my biggest dream: just to go back and just keep building up the community
.
Thanks
tigermichal
for the scans!
[urban-hoopla]
Labels: Brandy, Kelly Rowland, Newsstand Snapshots