Thursday, October 18, 2007
CANDIDS OF RIHANNA, BEYONCE, AND CIARA
Ciara
, deck out in a trendy black short leather jacket and blue jeans, pose for a photocall at the W Hotel in Seoul, South Korea.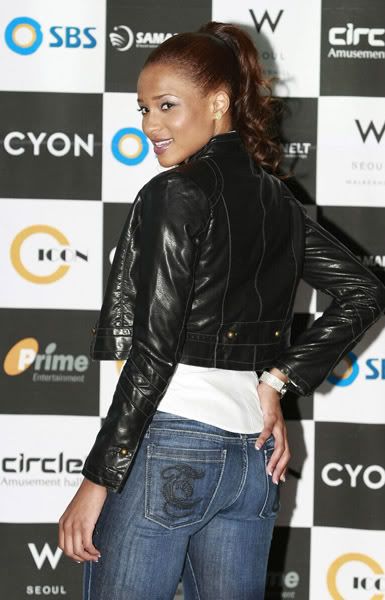 [images spotted at
Concrete Loop
]
Rocawear Women's face is only 21 (her 22nd birthday is on the 25th) and she went from being known as just a singer but an multi-talented entertainer in music, fashion and movies. As reported earlier, Rihanna will be joining her shortly on tour.
Deck out in black tights, tall boots, and a funky gray busboy cap,
Beyonce
made her way out of Sheremetyevo International Airport in Moscow, Russia yesterday.
[images via
corner of beyonce
]
Beyonce easily switch up her love for her
House of Dereon
handbag for that green
Fendi
. The R&B songstress is overseas for the remaining international leg of her "The Beyonce Experience" tour. Speaking of which, the DVD of her concert is excepted next month. According to Scratch magazine, Timbaland claims Beyonce's which he is producing will be "huger than life".
Down in Tribeca,
Rihanna
and her entourage had a ladies night out on the town.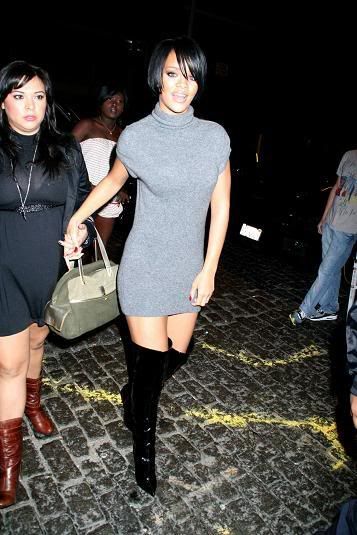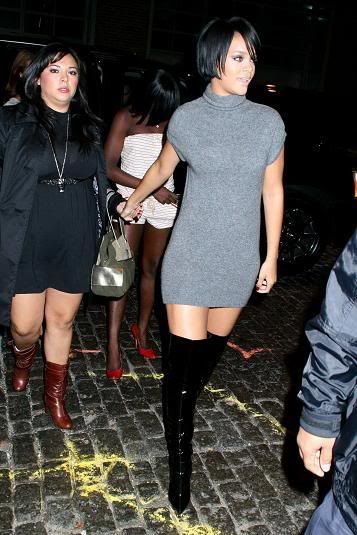 [images via ultimate-rihanna]
Rihanna has been photographed in and around NYC lately. I suppose she's squeezing in some down time before going back on her "Good Girl Gone Bad" promotional grind. Speaking of which, props to Rihanna on having four singles ("Umbrella", "Shut Up and Drive", "Hate that I Love You", and "Don't the Stop the Music") all simulataneously in Billboard top 50 charts.
Yesterday afternoon, the Covergirl starlet cuddled with her dog at her favorite restaurant
At Da Silvano
.
Cute sneakers...
[urban-hoopla]
Labels: Beyonce Knowles, Ciara, Out and About, Rihanna