Monday, November 12, 2007
MUSIC HOOPLA ON AMERIE
Amerie
is releasing two singles off her current record, "Because I Love It", which is "That's What U R" and "Crush". If you can recall, "That's What U R" was the prelude in her
"Take Contrl"
music video.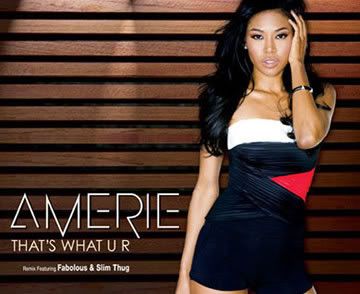 Check out "That's What U R" featuring Fabolous by pressing play to listen:
"That's What U R" would be the second song Amerie did with Fab. The first song the twosome did together, technically, was "1 Thing" remix. Click
here
to watch Amerie perform "That's What U R" live.
Amerie
has
reportedly
shot the video treatment for "Crush" with director
Scott Franklin
reportedly. Check out the song in question in case you missed it:
And in related news, Amerie
just wrapped up
the video treatment to Chingy's "Fly Like Me".
[urban-hoopla]