Tuesday, September 16, 2008
BORIS KODJOE'S UPTOWN SWAGGER + NEW VIDEOS FROM JORDIN & LEONA
Boris Kodjoe
looked every bit like
the fashion designer he has become
in a new one-page article featured in the
new "Uptown" magazine
. (Thanks
Necole
!)
Ciara
kept that
same all grown-up vibe
going on in the
latest edition of "Maxim" magazine
. Boris and Ciara were snapped by ATL-based celebrity photographer
Derek Blanks
.
Jordin
the girl Chris Brown has no connection with
Sparks
has a new video out for
her single, "Tattoo"
for her UK fanbase. Jordin released "No Air" and "
One Step At A Time
" off her self-titled debut record.
Leona Lewis
popped out a few dance moves for the first time in her "Forgive Me" music video. This single would serve as a boost come this December when Leona plans to
re-release her debut album "Spirit"
reloaded with videos and a DVD. "Better in Time" and "Bleeding Love" established Leona as a true R&B/pop vocalist but can she dance? Well I'll let you decide. Leona was spotted shopping with her boyfriend Lou yesterday in L.A.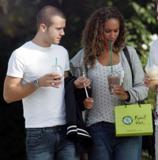 Photo credits:
LEONA-LEWIS.US
Labels: Boris Kodjoe, Ciara, Jordin Sparks, Leona Lewis, Music Hoopla, New Music

At 11:57 AM,

Anonymous