Sunday, April 22, 2007
Urban-Hoopla's weekly re-run!
Urban-Hoopla's weekly re-run!
April is almost wrapped up and this week bought out another new couple sighting.
Mila J and Marques Houston's
personal video blog that taps into their private relationship was leaked online:
[
View Mila J and MH's video blog here
.]
Meagan Good
and her new man were spotted at a popular night spot...
Folks I guess those Page Six rumors were quite true. Actress Meagan Good is in fact seeing the NFLer Thomas Jones I report on. Check the pair out this Thursday night at hot night spot, Canal Room:

Rihanna
denied she and
Omarion
are thisclose:
Rih Rih quickly moved on from her backup dancer/"Unfaithful" video boo Anthony Burrell:
*See why Miss Fenty did this move by clicking on the image above.
The fashion game this week was quite competitive.
Beyonce
was the queen of changing up her style this past week.
Rocking a beret at the Knicks game:

She sat alongside friends
Kimora Lee Simmons
and
Tyra Banks
....which meant little one on one time with her man Jay-Z.
Wearing
neon-red lipstick
outside a popular NYC eatery:
Sporting bangs in Australia:
First the red lipstick at the Knicks game and now a hair change, is Sasha making a comeback!? She's still rocking that House of Dereon bag that's NOT up on the official shopping site anymore!


You all went crazy over this particular
Which look is on lock edition
between Beyonce
and Tameka Foster:
Kelis and Paula Patton
were spotted in similar styled
Gucci mini
:
Amerie
came out of hiding:
Yeah that's her man Lenny Richardson right behind her. I'm adding her Diane von Furstenberg wrap dress to my summer shopping list. Damn that Macy's for having a one day sale while I came in to pay my damn bill, lol!
She's been in London recording her follow-up to "Touch" which I feel was overshadowed by the massive success of "1 Thing." That album is in my opinion Amerie's best. She co-wrote a bulk of the album and I'm a tad bit upset that the Carl Thomas duet didn't come out as single.
Halle Berry
showed us a side of her we all haven't seen since "Monster's Ball":
But Gabriel gets to see it each and every night.
She was busy trying to thwart a potential beat up between her man Gabriel Aubry and the paparazzi.
I'll leave you all with these fun
caption this
pictures: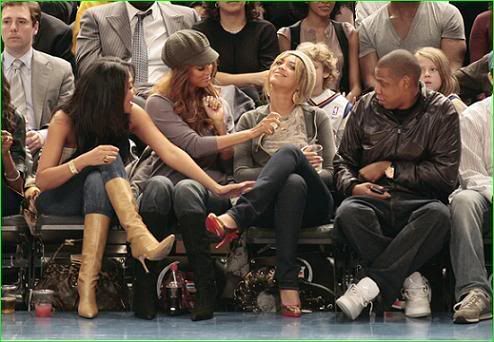 Kimora: Girl, if you ain't have Jay, I would be all up on that nigga :)"
Bee *fake laughing*:!! This b*tch don't know who the f*k she talking to do she Tyra?"
Tyra thinking to her self: If...you..don't...back...the..h*ll up out out my face with that breath....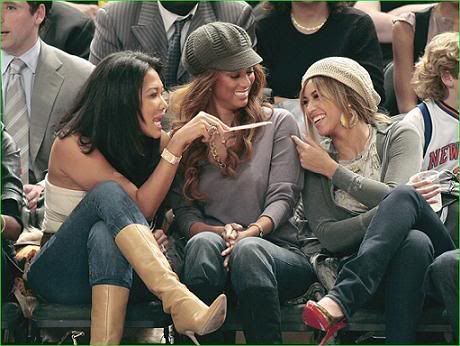 *Captions are done by a Urban-Hoopla reader, Trish!
This week's fly girl is tied between
Kelly Rowland
and
Michelle Williams
:
See what else went down this week by hitting up Urban-Hoopla's weekly archive right here
!
Labels: Amerie, Beyonce Knowles, Caption This, Destiny's Child, FFW, Halle Berry, Jay-Z, Kimora Lee Simmons, Meagan Good, New Couple, Omarion, Rihanna, Tyra Banks

At 8:25 PM,

Pedro