Monday, May 07, 2007
KANYE WEST DOES 'JET'
Kanye West
and his mother, Dr. Donde West, are featured on the May 14th issue of "JET" magazine: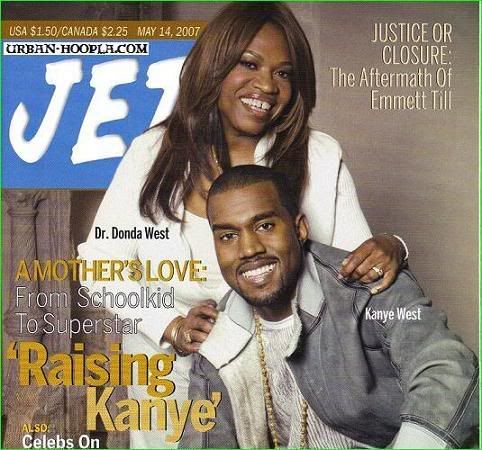 -click to see in full-

[pic credit: JET MAGAZINE]
In the special "Mother's Day" edition of "JET", Kanye and Donde talks about masturbation* (no lie), his childhood and his girlfriend, Alexis.
*"Masturbation was a far better alternative to having sex at such a young age." -Donde to Kanye and his friends.
Dr. Donde West on her book, "Raising Kanye":

"Single mothers could benefit from something I did in raising Kanye. There will be some blessings that people might find not only valuable, but also entertaining and interesting. It's not really a how to book. This is my story."

Kanye's mother also revealed that she'll be spending her Mother's Day in the Bahamas with her soon to be daughter-in-law and son.
-click to enlarge-
Labels: Kanye West, Newsstand Snapshots