Wednesday, May 23, 2007
NEWSSTAND HOOPLA FEATURING MYA & JANET
Janet Jackson

, who recently celebrated her 41st birthday, is the latest physically fit star to grace the cover of US tabloid magazine, Us Weekly:

Janet graced the cover exactly a year ago but more on this later!
On keeping the weight off: "I have a great support system to keep me on track… But I still don't like working out. It's hard for me. I have to push myself to want to do it."
On the fear of packing on the pounds again: "I have moments—I crave chocolate, or just want to eat. One thing that helps is getting my clothes altered to fit so I can tell when I gain or lose. I used to wear overalls all the time, and my mom said, 'Baby, don't do that or you won't know how much you lose."

On how you can look like her: "If I can do it, anybody can do it. Eating light and clean helps, but you really shouldn't think of it as a diet, otherwise you feel like you're depriving yourself. If you crave something, you should have a little bit of it, then let it go and move on. Do a little exercise so you're back on track."

On eating right: "It's about control and it's a balanced diet. Of course I have cheat days! Especially with my dancers, who love to eat. And after a hard day of work, they want to unwind and grab a drink, and alcohol is not good for my diet with all the extra calories. I try to have a glass of wine, but then somebody comes with a lemon drop and it's so good. You feel like you're drinking cough syrup or candy, and before you know it, the next day comes and you feel it. I make up for it with a few more reps when I lift weights."
Last year while promoting her last LP, "20 Y.O" Janet caused a frenzy with her rapid weight loss for the magazine as you can see below: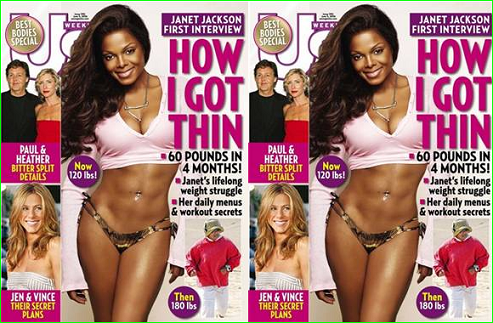 When asked about reaction to her plus-size body, Jackson says, "People didn't treat me differently to my face, but I'm sure they had their whispers behind my back. But I didn't feel bad about myself at all. It was part of my job."

[
MSNBC
]
Janet and her boyfriend of five years,

Jermaine Dupri,

recently stepped out for a night on the town:



The pair had dinner at the Nobu Berkeley restaurant in London. Prior to this Janet and JD attended the launch of an exclusive perfume at the Dorchester Hotel (London) Friday:



[pic credit:
JANET-ONLINE.C
OM]
Mya

is the latest R&B fashionista that landed the cover of VIBE VIXEN:


Mya will next appear in the film, "Cover" and you can check out the trailer down below:




Mya also co-host BET's Top 10 Countdown show, "106 & Park" with

Bow Wow

:


Mya and Bow also interviewed Fantasia who performed her hit, "When I See You":


[pic credit: MYA-HARRISON.NET]

Speaking of Fantasia,

Jane Fonda and Oprah

took in her Broadway theatrical performance of "The Color Purple" this past Saturday night:



And in related news, Oprah's father Vernon Winfrey is writing a book on his daughter's teen years and apparently she was the last one to know about the book:
"I was upset. I won't say devastated, but I was stunned," Winfrey told New York's Daily News in a story published Tuesday.
Winfrey said she laughed when one of her assistants told her the
newspaper was calling to ask about a book her father Vernon Winfrey was writing.
"I said, `That's impossible. I can assure them it's not true,'" she
said. "... I called him and it turned out he is writing a book. The worst part of it was him saying, `I meant to tell you I've been working on
it.'" [Yahoo] The name of the book is "Things Unspoken."
Labels: Bow Wow, Fantasia, Janet Jackson, JD, Mya, Newsstand Snapshots, Oprah, Out and About