Friday, June 22, 2007
BRANDY: THE E! TRUE HOLLYWOOD STORY REVEALED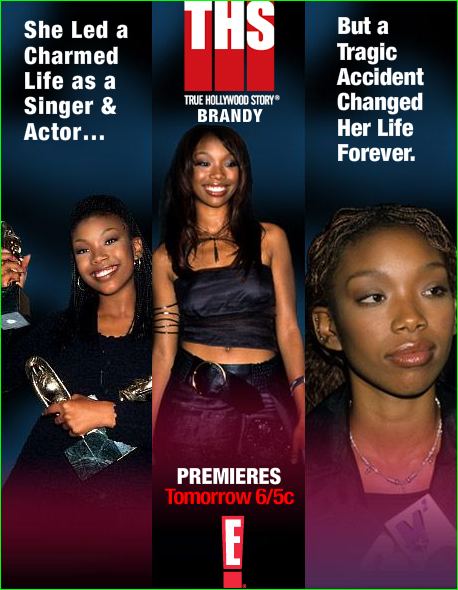 [pictue credit:
E!
]
E!
will highlight the ups and downs of successful R&B artist and actress
Brandy Norwood's
lengthy 14 year and counting career. Below are some hightlights:
About the faux marriage to producer Robert Smith -- her daughter's father, she said, "Unfortunately, I didn't have the love so I had to be brave and say this
is not where I want to be. I'm not happy. I need to move on."
About breaking up with Morris, who is believed to be her first love, she shared, "It's kind of hard because that was my only boyfriend in the whole world, so I'm still getting over him. I still can think about it and cry."
Countess Vaughn on Brandy giving birth to daughter Sy'rai – "I believe it changed her life. She really brought something out of Brandy."
Shar Jackson on tragic death of co-star Merlin Santana in 2002 – "It hit her hard. It his us all really, really hard, but we were all there and being really, really supportive of each other."
Shar Jackson on tragic death of co-star Lamont Bentley in 2005 – "Losing
Lamont, we're still not through that."
Producer Chris Stokes on the fatal car accident -- "I was just so overwhelmed and so sorry for the family and so sorry for Brandy. I was completely a loss for words."
'Moesha' co-star Sheryl Lee Ralph on the fatal car accident – "I do not believe that Brandy got up, got in her car with the intention to hit somebody."
READ MORE OVER AT BLACK VOICES
"
Brandy: The E! True Hollywood Story
" will premiere June 23 at 6pm et/pt on E!
[
urban-hoopla
]
Labels: Brandy, Juicy Tales