Thursday, June 21, 2007
JT AND JESSICA BIEL MAKES IT OFFICIAL
"Shrek 3" star
Justin Timberlake
and his girlfriend
Jessica Biel
of "7th Heaven" fame were spotted on a leisure stroll with Justin's mother and Justin's best friend Trace Ayala in Europe:
Holding hands in front of JT's closest friend and mother just seems to make this under the radar couple legit in some ways. [pictures spotted at
Toya's World
]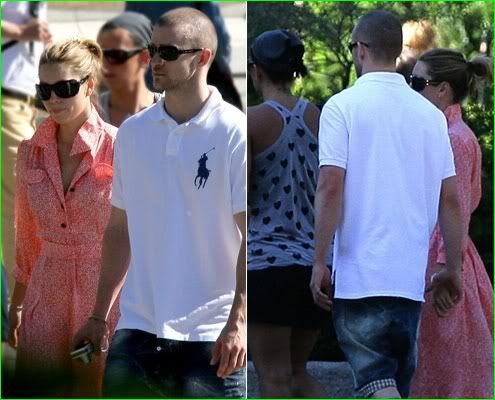 [
picture source
]
On the music tip, Justin has three strong singles out competing on the radio airwaves. "
Until The End Of Time
", "
Summer Love
", and "
Love Stoned
" are the singles Justin and his people dumped on us. "
Until The End of Time
" seems to be a favorite among urban stations. The Quiet Storm on WBLS, home of Wendy Williams, plays this song quite often. Z100 caters to "Loved Stoned" while Hot 97 seems to love "
Summer Love
." Justin has already shot the video treatment to "
Love Stoned
" but for his UK audience.
Jive Records
, JT's label home, seems to be crossed between "Until the End of Time" and "Summer Love."
JT will soon be on HBO for a exclusive concert in support of his current tour,
FutureSex/LoveShow
, which will air on September 3rd. This HBO concert series will be his first as a solo artist and it was taped from August 16th concert stop.
Labels: Justin Timberlake, New Couple, Out and About