Wednesday, June 27, 2007
CHRIS BROWN'S WALL TO WALL VIDEO
As soon as the video stopped, I scream MJ swagger jacker! "Wall to Wall" is a remake of two classic MJ videos, "
Remember the Time
" and "
Thriller
" rolled up into one.
Chris Brown
is a HUGE fan of MJ so I'm rolling with that old saying, "imitation is the best form of flattery."
Chris takes from MJ's Thriller concept: the zoombies and varsity football red and white jacket and makes this idea his own. Chris also taks from MJ's Remember the Time dance sequence and makes it something fresh. I'm quite sure MJ fans would be heated but MJ and Chris are good friends so don't take it to heart, folks.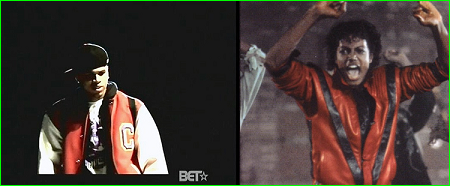 After all, Chris has famously said,
"He called me for my birthday, and I told him we should do a song," Brown said. "He was up for it. Man, it was crazy. He actually spoke to me like a regular person, and he was like, 'I like your music.' He said his favorite song was 'Shorty Like Mine' that me and source]
did. I appreciated talking to him." [
[
urban-hoopla
]
Labels: Chris Brown, New Music