Sunday, June 10, 2007
HIP-HOP BRIDGE
Thanks in part to ONTD, check out these fun snapshots of
John Legend, Kanye West, Mariah Carey and Jay-Z
at the Louis Vuitton store in New York City recently:
Should I not point out how tight and hot it'll be if this group of friends did a song together? You already
Mariah Carey and Jay-Z killed it on "Heartbreaker"
but what would it sound like if you add Kanye and John---niice!
Internationally-known supermodel
Naomi Campbell
was seen leaving her Gramercy Park Hotel this past May while R&B diva
Mariah Carey
rock the same black knit number to Kanye West's 30th birthday bash in New York City.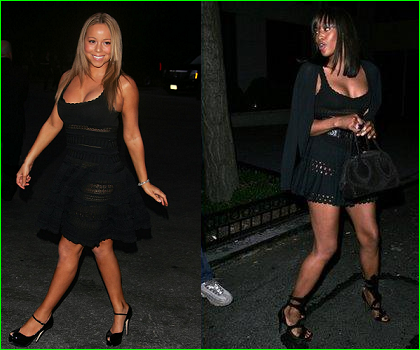 Which look is on lock? Mariah or Naomi? Discuss/Argue your point/Comment...
OVERHEARD HOOPLA
1.
And supposedly "Upgrade U" promises a
Beyonce and Jay-Z
record label in the future. [
ONTD
!]
2.

Kim Kardashian
is on team Paris. [
TMZ
]
[
urban-hoopla
]
Labels: FFW, Jay-Z, John Legend, Kanye West, Mariah Carey, Naomi Campbell, Out and About