Sunday, June 10, 2007
R&B DIVAS
Cassie

and

Ashanti

, two R&B chicks would have been criticized for their singing abilities, showed up to

Kanye' West's

30 birthday bash in high style
.
Cassie

opted for fuschia pink shirt-dress while

Ashanti

opted for a sequin top and a HOT LV bag! Cassie, after her 'live' performance of "Me & U" on BET, proved you can have a career off the hype on your myspace page. Ashanti proved with the right hip-hop producers, momanager and rapper behind you you can equally produced nothing but hits. Out of the two, I'm more so Ashanti's fan. My point is simply this---no amount of haters cannot deny the staying power of these two artists. Ashanti has a movie career to fall on while Cassie has a modelling/video honey career to fall back on. These ladies also know how to market themselves to ANY market! You can't knock Cassie and Ashanti's hustle.
One of my favorite R&B female singers
Brandy
(her last two albums got slept on, folks!) attended the Christie's Book & DVD release party with her
$1 million plus selling sex tape king
Ray J
: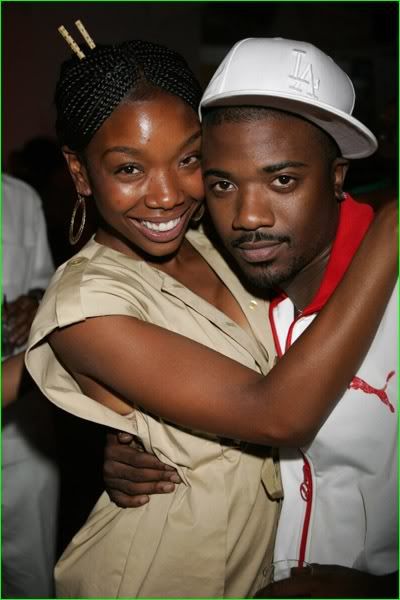 Brandy
was recently spotted with some girlfriends heading to
Aria
nightclub in Cali:
The

Norwood siblings

who I'm grateful for pulling off "Moesha" were at one point son and daughter of modern R&B until scandal hit them hard. I'm sure these two would bounce right back from all their hard times. Until they do, check out a clip from "Moesha":

Overheard Hoopla
*Listen to
Chris Brown's
Umbrella/Cindrella remix featuring
Rihanna.
[
LISTEN
]
[
urban-hoopla
]
Labels: Ashanti, Brandy, Cassie, Chris Brown, New Music, Out and About, Ray J, Rihanna