Wednesday, September 05, 2007
IS THAT CIARA'S LEGS?
The inside booklet of
50 Cent's
new album "Curtis" prompted the ideal question: is that
Ciara's
legs?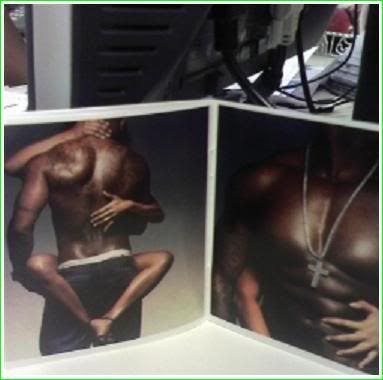 Borrowing the same theme from "Can't Leave 'Em" promo picture:
Fans believe that 50 Cent has Ciara's legs draped around him suggestively. If these legs are Ciara, their relationship is quickly becoming one of Hollywood's worst kept secret.
"Just friends"
a comment insisted upon
from
Ciara
and
50
is just one of those things that make me go hmmm...
50 Cent on Ciara:
You're a nut, man! They came at me about doing the song and I heard the joint. It was before her album came out and I was thinking that she's the future of R&B. People love Beyoncé, but look at how long she's been around! I think that she's dope, though. But I'm about the future of the business and [Ciara] and Chris Brown are just that. They're going to be the best things out in a lil' bit. But as far as what people think between me and her, man… [laughs], the video did that
. [
source
]
Ciara on 50 Cent:
asked "Kanye West or 50 Cent?", her response was at first a giggle and then "I have to be honest. I love both artist, I think both are amazing. I want to work with Kanye on my next record. I
already did a record with 50...ummm TEAM 50
!" [
source
]
Just friends say this about one another, right?
*UPDATE: Those are NOT Ciara's legs:
images via
Toya's World
.
[urban-hoopla]
Labels: 50 Cent, Ciara, Just Friends, New Couple, things that make me go hmm