Friday, August 31, 2007
WEEKEND HOOPLA
-Chilli doing the Soulja Boy dance on Ryan Cameron's radio show in ATL-

Lil' Kim gets pulled over by the fashion police. [A Hot Mess]
Serena Williams adds to the HP commerical hoopla. [Juiicy Scoop]
Sade's comeback?! [Feels Good 2 B Home]
50 Cent as a gorilla; Kanye West as teddy bear. [Straight Outta NYC]
Kelis flaunts her unique self in Spin magazine. [Cake & Ice Cream]
Keke Wyatt is mixed and proud. [Sandra Rose]
LisaRaye models for Turks & Caicos. [Juicy-News]
Usher and Tameka makes "it" official in ATL. [Pop-Junkie]
Fantasia shows off her North Carolina crib. [Concrete Loop]
Terrence Howard and John Legend pose for the cameras. [Crunk & Disorderly]
Brad Pitt hands out with Zahara in Central Park.[Bizzom]
Here's another fun installment of "Look on Lock" bought to you by the funky skulls-printed top R&B starlets Kelis and Monica rocked recently.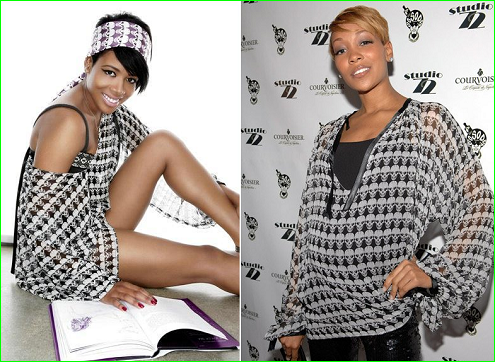 Kelis paired her skulls-printed top with a matching head scarf for a recent "Spin" magazine photoshoot. A six-months pregnant Monica rock the same top with matching black sequin tights at the JD's Studio 72 opening launch in ATL. [source via source]


Kelis vs Monica: which LOOK is on LOCK?
Hey folks, I'm taking a mini-vacation this Labory Day weekend. I'll return back Tuesday. In the meantime, visit my favorites off my blogroll!


[urban-hoopla]

Labels: 50 Cent, Brad Pitt, Chili, Fantasia, John Legend, Kanye West, Kelis, Lil' Kim, Look on Lock, Monica, Serena Williams, Terrence Howard, Usher