Thursday, June 12, 2008
MEAGAN GOOD AT "THE LOVE GURU" L.A PREMIERE
Meagan Good
dressed up her multi-print halter dress with a pair of
Yves Saint Laurent Tribute pumps
. Meagan arrived at her latest premiere with her long-time boyfriend, Thomas Jones of NY Jets, by her side.
Jada Pinkett Smith,
Christina Aguilera
, and
Erykah Badu
were ALL seen in these
cream-colored Yves Saint Laurent platform loafers
with black and white leopard print detailing. So is it safe to say this is the latest shoe trend on the catwalk?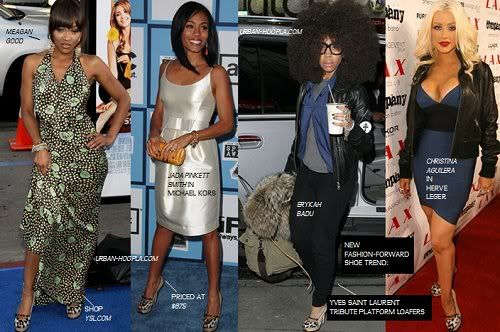 [
BIGGER IMAGE
]
According to
BLACK VOICES
, Meagan
...landed a role opposite Mike Myers and Jessica Alba in 'The Love Guru', where she will play the love interest to both Justin Timberlake and Romany Malco.
Meagan in a recent interview with
COSMO GIRL
talked briefly about her new box office role:
It's nice to do something different — it's a breath of fresh air. You would think, though, that comedy would be much lighter and easier. But really, a thriller or anything dramatic is much more in my comfort zone. Comedy is so different because everything is about timing.
"The Love Guru" will be in cinemas
June 20th
.
Labels: Box Office Hoopla, Christina Aguilera, FFW, Meagan Good, Out and About