Friday, October 03, 2008
BEYONCE & SOLANGE SPOTTED AT BERMUDA MUSIC FEST + MUSIC UPDATES
Beyonce Knowles
performed a medley of Destiny's Child and solo hits at the 2008 Bermuda Music Festival. According Karu, on the playlist for Beyonce were the hits 'Survivor,' 'Independent Woman,' 'Say My Name' 'Dangerously In Love,' 'Me, Myself and I,' and 'Get Me Bodied.' (To that I say get it girl!)
Prior to her musical appearance, Beyonce took to her offical site,
BEYONCEONLINE.COM
to clear up rumors of her album getting pushed back. In her personal message to her fans the singer revealed that she recorded over 70 songs for her third solo album. Check it out what she wrote to her fans:
"I want to talk to my fans about my upcoming album.
I have worked on this album for close to one year. I have taken the time so I can create my sound, something that says who I am at this stage in my life. I have poured my heart and soul into it. It is my baby. It is the most time I have spent on any project since my first records as a member of Destiny's Child when I was 15 years old. I have recorded over 70 songs and have created a sound that reveals all of me. I am in a different place right now and I wanted people to see the many sides of me. The music is upbeat for the dance, fun side and it is reflective, passionate and serious for the personal side. I have taken risks here. I am not afraid and my music will explain it all. There is no label or tag on my sound. It's me and I am so excited to share it with the world on November 18."
Love,
Beyoncé
UPDATE: Check out this short clip of Beyonce's "Crazy In Love/Gnarls Barkley "Crazy" performance:
So there you have it Michelle's album will drop on
October 7th
as well as Ciara's "Go Girl" video premiere plus Beyonce's two new singles will hit the radio as planned. Plus she'll appear on the
2008 Europe Music Awards
. Beyonce's untitled album has its album release date on November 18th. (Mark your calendars folks!)
Beyonce's sister
Solange
also performed at the 2008 Bermuda Music Festival. (FYI: Solange wrote a new song called 'Why Don't You Love Me?' for her sister's upcoming album.) Karu F. Daniels of
Black Voices Blog
who was on the scene for the performance confirmed the singer will go on
tour next year
in support of the album. Soon after the gig, Beyonce and her five body guards (for her huge wedding bling) soaked up the sun on the beach. Beyonce's cousin
Angela Beyince
and her nephew Daniel joined the Knowles sisters down in Bermuda.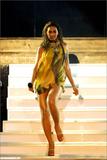 photos: Splash via
BEYONCEWORLD
Labels: Beyonce Knowles, Music Hoopla, Out and About, Solange