Saturday, October 27, 2007
BEYONCE ON NEPHEW DANIEL AND BOYFRIEND JAY-Z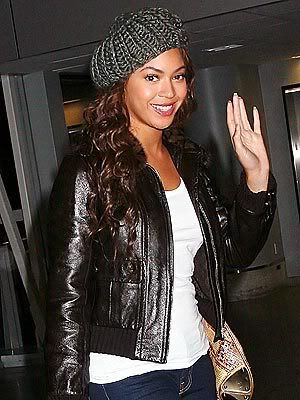 Before taking off from JFK Airport in New York City to perform live in India for the international leg of her tour, Beyonce
said for relaxation
she baby-sat her sister Solange's son, her nephew Daniel.
"I just finished babysitting him for a week actually. I took him to this dinosaur show, it was like thousands of people, and no one asked me for an autograph! They kind of respected that I was [with family]. I didn't have security. It was just me, my mother and my nephew. It's rare [to get that space], but it was so much fun."
Knowles went on to say she's
unsurprised
by her boyfriend Jay-Z's unretirement in music.
"His album is incredible. I will definitely have that in my iPod," she said. "It's the best I've ever heard from him, so I'm really happy."
The Grammy Award winning singer is currently in the studio working on the follow-up to her 2006 release, "B'Day".
And in related news, Mario recently did a cover of Beyonce's song, "If" which you can check out
here
.
Labels: Beyonce Knowles, Mario, New Music, Out and About