Wednesday, September 17, 2008
BEYONCE & JAY-Z AT NYC FALL GALA + TYRA'S V MAG COVER EDITORIAL
Jennifer Lopez
and
Beyonce's
October fashion magazine cover gigs
may be the
second time
did something similar recently. When Beyonce attended the 2008 New Yorkers For Children Fall Gala, the R&B singer wore the same
RM by Roland Mouret dress
in a different color just like Jennifer's crisp white look at the
Marc Jacobs Spring 2009 collection show
.
From one Beyonce-related fashion tidbit to the next, the singer's sister
Solange
joined her in the latest L'Oreal commerical spot.
Tyra Banks
teamed up with
Sessilee Lopez
in
the new issue of "V" magazine
. The fashion-forward pair recreated
the 1975 Diana Ross cult class, "Mahogany."
Check out Sessilee on the mock-up cover of "Harper's Bazaar." (By the way Tyra recently had
a cover gig with "Bazaar" magazine
...as
Michelle Obama
. Tyra's definitely giving props to the black females that came before her.) That
All-Black "Vogue Italia"
definitely has had a positive effect on the fashion world, hasn't it? Check out more outtakes from Sessilee and Tyra's "V" mag photo editorial over at
Sessilee's official blog
.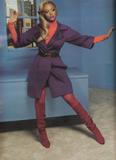 Scans:
models.com
/
Sessilee Lopez Blog
Labels: Beyonce Knowles, Fashion Hoopla, J.Lo, Jay-Z, Newsstand Snapshots, Out and About, Solange, TV Hoopla, Tyra Banks