Saturday, October 04, 2008
PREVIEW KANYE'S "HEARTLESS" + LEONA & LOU SHOPS
At T.I's myspace concert,
Kanye West
performed his second single, "Heartless" off
his upcoming album
, "808's & Heartbreak." Don't get too hyped because Kanye or rather Consequence who filmed the performance only did a good minute of the song. First "
Love Lovedown
" and now this? Kanye definitely leaving
his emotions
out in the open. (Are you listening
Alexis
??!) Anyhow Kanye
never
disappoints musically. Check it out...
Leona Lewis
and her boyfriend Lou Al-Chamaa enjoyed
some time together
shopping at the Harvey Nichols department store in London. Leona is scheduled to appear at the
MOBO Awards alongside M.I.A, Duffy, and Estelle
. The "
Forgive Me
" singer was seen outside the Crystal nightclub without Lou in England last night. (Leona definitely loves the color blue, doesn't she?)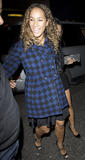 Photos:
FYB
, Bauer Griffin,
LEONALEWISONLINE
Labels: Kanye West, Leona Lewis, Music Hoopla, Out and About