Friday, October 03, 2008
ZOE KRAVITZ AT FASHION WEEK + PCD ON NEW VIDEO SET
Those black Stella McCartney wedge ankle boots stood out front row thanks to
fashionista
Zoe Kravitz
. The
offspring of Lenny Kravitz and Lisa Benet
was seen soaking up the Spring 2009 collection at the Stella McCartney show during Paris Fashion Week. Zoe was also spotted at the Chanel fashion show rocking her
chic boho look
in another fly pair of Chanel boots.
photos: Elle UK/WIREIMAGE/Getty
Mary Kate Olsen
wore the
wedge pumps
style for her cover appearance on Elle UK magazine - the
July 2008 edition
. Notice how the sole of MK and Zoe's are quite similar? (Fashionistas think alike, huh?)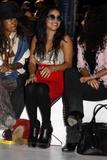 photos: Splash/Concrete Loop/Getty
The
Pussycat Dolls
filmed a music video for their third single, "I Hate This Part" off their current sophomore disc, "Doll Domination." (What happened to
their video with Missy
??!) Check out the pop group behind the scenes of the video shoot. In the video, the PCD girls
celebrated Melody Thornton's birthday
and
Nicole Scherzinger
talked about her favorite song off the album.
Labels: Fashion Hoopla, Melody Thornton, Music Hoopla, Nicole Scherzinger, Out and About, PCD, Zoe Kravitz