Saturday, October 27, 2007
OUT & ABOUT: NAOMI & RIHANNA
Last night at Ciprani in New York,
Naomi Campbell
was
honored
at the Black Retail Action Group's Annual Scholarship and Awards Dinner.
And in related news, Naomi
reportedly threw another tantrum
but this time the incident occurred while boarding a plane 11 minutes before takeoff.
Naomi Campbell threw a huge tantrum at an airport Thursday after she wasn't allowed to board her flight.
The supermodel - who recently had to attend anger-management classes - turned up 11 minutes before her flight was due to take-off from London's Heathrow and demanded to be let on.
Onlookers claim the 37-year-old star stamped her feet and whined, "You have to let me on. Come on."
British Airways staff said she was too late but did offer to let her travel without her luggage and send her bags on a later flight.
But Naomi yelled, "You are joking. You are always losing bags and I don't trust you with mine in a million years.
"I can't believe you won't allow ME on your flight. What is this? Who must I speak to?"
A source told Britain's Daily Mirror newspaper, "When BA staff explained she was too late, she exploded and stamped her foot. There was a tirade of abuse."
Relaxing before kicking off her international "Good Girl Gone Bad" tour,
Rihanna
was
spotted
in her native country Barbados.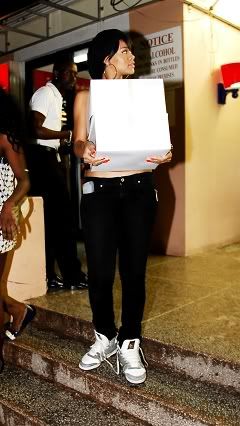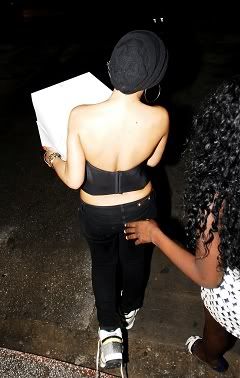 [images via celebutopia.net]
Mary J Blige has
no hard feelings
over Rihanna taking "Umbrella" as her own.
"They did the song for me," Blige revealed of "Umbrella." "And it was during the Grammy time and I was really, really busy, and I heard it, and I was like, 'Oh my goodness, that's a smash. I love this song.' And it was like, 'It's yours.' So in the midst of it being mine, they were probably telling [Rihanna] it was hers."
But there are no hard feelings between the R&B veteran and the fast-rising newcomer.
"She's such a beautiful lady, and I love her to death," Mary J. said of Rihanna. "I was so glad that she caught it and knocked it out of the park, and it's still one of my favorite songs to date."
[urban-hoopla]
Labels: Naomi Campbell, Out and About, Rihanna