Monday, September 22, 2008
HALLE & NAHLA AT THE PARK, MUSIC UPDATES ON MILIAN + AGUILERA + PHARRELL'S A PC
Halle Berry
spent some
quality mother-and-daughter time
with
Nahla Ariel Aubry
at a Beverly Hills park over the weekend. Also there with the twosome was Halle's mother Judith Hawkins but no Gabriel Aubry in sight. However that's not to say Halle and Gabriel have to be attached at the hip.
Black Celebrity Kids
has more kodak moments of Halle and Nahla in the park.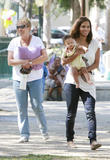 Photos:
CELEBRITY-BABIES
. INF. RAMEY
Considering that her last major hit was "
Say I
" (which was
co-written by Jazmine Sullivan
), buzz for a new
Christina Milian
album was heightened by the countdown ticker placed on
the singer's myspace page
.
Christina Milian
finally gave her music fans a quick update on her upcoming 'comeback' album via her
myspace page
. The lead track off her still untitled MySpace Records debut is called, "Us Against The World." In a
recent interview with "Billboard"
, Christina worked with
Kanye West
,
T-Pain
,
Cool & Dre
,
Danja
and others on the album. "Us Against The World" according to
her myspace page
will be release on
October 8th
.
What else to expect from Christina's album:
In addition to "World," the album includes tracks like the feel-good "Diamond," "Stay," which Milian compares to an early '90s s Madonna ballad, and the Euro-club record "Tug of War."
[
billboard
]
The tracklisting and cover of
Christina Aguilera's
greatest hits collection
, "Keeps Gettin' Better: A Decade of Hits" was finally
released
. Christina already performed a remix of "
Genie of a Bottle
" and her current single, "
Keeps Gettin' Better
" at the
2008 Video Music Awards
. The greatest hits record wouldn't be release until September 30th via Target. Anyone else like/dislike this new
Space
image Christina has going on?
1. Genie In A Bottle (New Version)
2. What A Girl Wants
3. Come On Over Baby (All I Want Is You)
4. Lady Marmalade (New Version)
5. Dirrty (featuring Redman)
6. Beautiful (New Version)
7. Fighter
8. Ain't No Other Man
9. Hurt
10. Candyman
11. Keeps Gettin' Better (New Song)
12. Dynamite (New Song)
Pharrell Williams
and
N.E.R.D
joined the recent
Microsoft's "I'm A PC" commerical campaign
.
Eva Longoria Parker
and
Tony Parker
are also involved in the project. Check it out...
First Pharrell had
the HP commerical gig
and now a Microsoft one. He can't knock his hustle...
Labels: Celeb Offspring, Christina Aguilera, Christina Milian, Eva Longoria, Halle Berry, Music Hoopla, Out and About, Pharrell Williams, TV Hoopla