Tuesday, April 24, 2007
TUESDAY'S ADDICTIVE HOOPLA
Mýa
, at Lifetime UpFront, performed with recording artist
Patti Labelle
:
I wonder what song they performed...
pic credit:
MYAHARRISON.NET
Word is the premiere of Mýa's 'Lock you down' video on 106&Park tomorrow.
Amerie
supposedly insured her
legs for $2 million dollars
:
Amerie says,
"My legs are very important to my career so I'm insuring them. I love dancing as much as I do singing."
[
SOURCE
]
Beyonce's
new Samsung commerical:
Samsung F300 "Ultramusic" TV commercial is done in English and Spanish. Gotta love her for pulging "House of Dereon" brand into the commerical.
According to thisisrihanna.com,
Rihanna
will premiere her new video for "Umbrella" this Thursday:
-click on image for details -
Jennifer Lopez
was spotted shopping at London's Top Shop and bought along her hubby
Marc Anthony
for the shopping spree:
the couple that shops together....
naw!
J.Lo is in town for her 4 million dollar birthday bash performance for a wealthy billionaire.
J.Lo and Marc will be starring together in
"El Cantante":Joe's Aint Nothin' Like Me
drops today and he was out signing autographs and performing at J&R Music and Computer World:
I'm really feeling Joe's current single, "If I Was Your Man."
Reggie Bush
hit up a country club with funny man Anthony Anderson recently:
I'm still mad I didn't recognize him when I literally bump into him last year at the MTV Studios. He's finer in person but I just couldn't remember his name. Speaking of celeb sightings, a faithful Urban Hoopla reader let me know that
Brooke Hogan's
complexion is far from tan but orange:
Orange?!? Hot damn!
TMZ posted up a hilarious clip from this past Sunday night's episode of
"Entourage":
Ari goes crazy during couple therapy. Apparently Ari Gold (as played by Jeremy Piven) can't take Vince Chase (as played by Adrian Griener) not being his client anymore.
Eva Longoria
at
The 2007 ALMA Awards Promoshoot
:
She looks sort of Vida Guerra...
[pic credit: gossip rocks]
Melanie Brown
has named her daughter
Angel Iris Murphy Brown
.
She tells British magazine OK!, "We had talked about having a family and getting married. We started talking about whether we should buy a house together, where we could be alone together." Brown insists Murphy was a loving boyfriend and excited about the baby when she flew to her native England to visit her mother last December, but when she returned Murphy had ended their relationship and was denying paternity of the tot. Brown explains, "I came to see my mom for a few days as I wanted to see her in person. Then I got a flight home, landed and there is a whole sea of photographers. There were people shouting about a DNA test. "I was in complete shock. I tried to call Eddie and couldn't get through. Then I got through and he said he would call me back and that was it. He never called back. I literally couldn't understand what was happening." While Brown was flying home to Los Angeles, Murphy appeared on Dutch TV show RTL Boulevard, saying, "I don't know whose child that is, until it comes out and has a blood test." She laments, "I was shocked and then I felt a bit disgusted. I don't feel humiliated. I think the only person who has humiliated themselves is Eddie. If he wants to do a DNA test, then do it. Step up to the plate and be responsible. I have no doubt that this is Eddie's baby. I'm not registering her birth without her dad."
[source:
Hollywood.com
]
WOW, this is the type of drama we've seen on Jenny Jones, Ricki Lake, and Maury rolled up in one!
Serena and Venus Williams
proves yet again why money doesn't hook up a new weave recently at a tennis match:
Needless to say their tennis chops makes up for their lack of hair picks. -smh-
Serena Williams
, in a gorgerous Catherine Malandrino Spring 2007 dress, announces her renewed partnership with Vicks and the
launch of a Vicks national sweepstakes at the "Top of the Rock" Rooftop Garden
on April 24, 2007 in New York City.
The winner of the Vick's Sweepstakes wins an all expense paid trip to Wimbeldon.
Click on the image below is listen to the Ne-Yo & Kanye West remix to "Because of You":
[props to the.life]
Another faithful Urban-Hoopla reader saw Mathew McConaughey with his new girlfriend exercising in the good East Coast Weather:
Does this guy own a shirt when he's working out?! I need a tall drink of water ASAP!
Lastly thanks to those who's recognizing the name change of this blog, Urban-Hoopla. platformlaunchaction.blogspot.com will remain the same because this blog has somehow made its way onto Wikipedia and there are a great number of you that prefer the old name. I haven't decided just yet how I'll change up the logo but I am working on it promptly: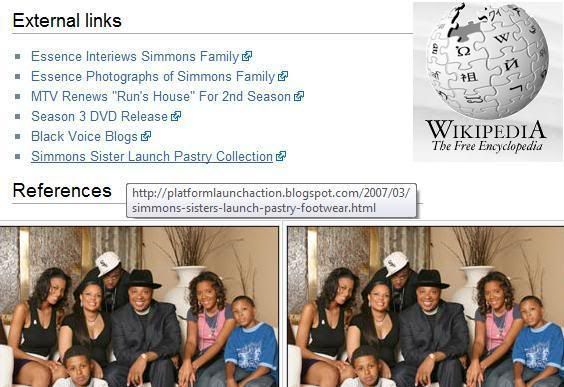 Much love to whoever did this and much love to Nachi for letting me know about this!
Labels: Amerie, Beyonce Knowles, Eddie Murphy, Eva Longoria, J.Lo, Joe, Kanye West, Mya, Ne-Yo, Reggie Bush, Rihanna, Serena Williams, Spice Girls