Wednesday, May 09, 2007
WHILE ON HIATUS
While I took a day off yesterday on here tons of celebrities did their thing in a big way especially Nick Cannon.
Nick Cannon
proposed to his Victoria's Secret model girlfriend
Selita Ebanks
in Times Sqaure:
Do I have to say wow or do I have to say hmmm?! First Nick rolled with Christina Milan and then with Kim Kardashian. I'm waiting on Selita's post engagement interview so she can give us all insight on whether or not Nick's cool and suave or funny and corny.
Via
People
:
Following the dramatic proposal, the actor and the Victoria's Secret model hit Butter for a family celebration.
"MTV kingpin Nick Cannon rocked the world of his longtime girlfriend, Victoria's Secret model Selita Ebanks -- by busting out a HUGE 12 carat rock, and asking for her blinged-out hand in marriage. Obviously, she obliged.The couple, who attended the Metropolitan Museum of Art Costume Institute Gala, were ferried to Times Square in a Rolls Royce Phantom (natch). But the real exercise in extravagance didn't begin until the words, "Selita will you marry me?" lit up on the giant Jumbotron in the Square. Nothing says "I love you" like a two-story electronic proposal! Cannon then whipped out the hardware (the ring) and sealed the deal! The happy couple then went to NYC hotspot Butter to celebrate. Cannon surprised his new fiancee by flying in her parents and best friends. Then Nick and Selita left their impromptu engagement party to catch a private plane back to L.A. so Nick could be back at work Tuesday morning."

Chris Brown
held his 18th birthday bash down in New York City's club 40/40 which bought out Rihanna, Jennifer Hudson, Trey Songz and Lil' Mama:
JHud sang to Chris the traditional birthday song but what happened to Lil' Mama adding a few bars to the song or Rihanna adding a little ad-libs too? Things that make me go hmmm...
JHud
and
Rihanna
also attended the event that bought out couples Taye Diggs and wife Idinza Mendel, Robin Thicke with his wife Paula Patton, Nick Cannon and Selita and supermodel Naomi Campbell:
Taye Diggs
was also featured in this past week's issue of "People" to discuss his "Grey's Anatomy" spin-off show: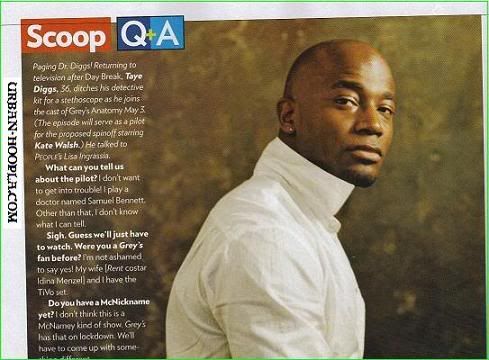 -click to see in full-
If you're an avid fan of "Grey's Anatomy" like I am, an episode before the finale featured Taye as an divorced doctor attached to his dog. The spin-off picks up with the former Mrs. Steamy (Kate Walsh). The spin-off is just a tad bit interesting than Taye's last ABC series, "Daybreak."

Rihanna
co-hosted "TRL" yesterday:
Rihanna's musical guests for the day were
Cameron Diaz and Ciara
. The day before that, Rihanna hit up "TRL" to premiere her "Umbrella" music video in a gold number:
Rihanna is expected to perform at the MTV Movie Awards on June 3rd.
Someone tap Rihanna on the shoulder and let her know that "TRL" is not for the gold and gold crew but I do admit those earrings of hers are hella hot.
Alicia Keys
was recently spotted at a Hollywood parking lot catching with friends, 'Girlfriends' star,
Tracee Ellis Ross
, actor
Donald Faison
and his girlfriend, Cacee Cobb (Jessica Simpson's best friend and former personal assistant):
As to what they were talking about is meaningless right about now. I'm all about the random/candid factor of these pictures. I bet you are thinking the same too, huh? Anyhow word has it that Alicia's album will drop October.
Labels: Alicia Keys, Chris Brown, Donald Faison, Jennifer Hudson, New Couple, Nick Cannon, Paula Patton, Rihanna, Robin Thicke, Selita Banks, Taye Diggs, Tracee Ellis Ross