Saturday, October 04, 2008
NEWSSTAND: T.I, BARACK & COMMON
T.I.
kept it clean and smooth for his cover appearance on "Giant" magazine. "Paper Trail" according to
Billboard's 357K estimate sales
will become the number one album.
photo:
Str8NYC
via Giant
"Vibe" magazine officially endorse a Presidential candidate via
its November 2008 cover pick
for the first time. Senator/Democratic Presidential candidate
Barack Obama
appears on the
historic collector's edition cover
with a letter addressed to "VIBE" readers which goes as follows:
"Dear VIBE Readers, I am running for President to take this country in a new direction. But I can't do it alone. I need you."
(
Register to vote, folks!
Monday October 6th
is the deadline for voter registeration as
Diddy
said best this past Friday.)
photo: Huffington Post via VIBE
Common
appeared on the
October 2008 cover
of "944" magazine with the same black frames as
Usher
. (A trend is born, I suppose?)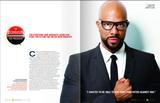 photo:
ONTD
via 944
Labels: Common, Diddy, Newsstand Snapshots, Political Hoopla, T.I